We run half or full day events for schools which can be tailored to suit the individual needs of the children attending. Schools can choose from a tour of the centre with question trail and worksheets, guided town trail and/or costumed drama workshop.
please contact us for more information
Museum Tours
As the museum is temporarily closed, the Museum Tour is a virtual experience based around costumed role play and the town and it's buildings.  Please contact us for more information.
Guided walks around Wirksworth
We also run guided tours of the town. These take around an hour, starting at Crown Yard, continuing to the Market Place, touring the notable buildings on the Main Street, stopping off at Church Walk and St Mary's before passing the Old Grammar School and touring Coldwell Street before returning to the Heritage Centre.
Drama Workshop.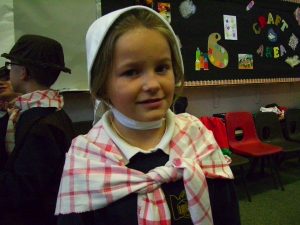 We offer costumed drama workshops, usually on the theme of life for leadminers and mine owners. These encourage children to use their imaginations to think about the lives and roles of people in the past. They can be tailored to other areas of the curriculum by arrangement
Recording and Interviewing
We encourage the children to make use of digital cameras and camcorders to record their experiences on the school visit and can arrange for a qualified I.T instructor to visit the school after the trip to help the children to compile a web page about their experiences at the Heritage Centre. this page can then be published on our website.