Welcome to Wirksworth Heritage Centre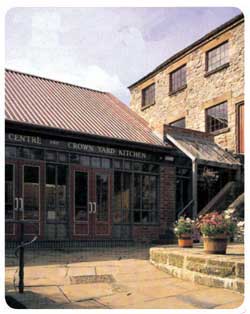 We are a unique local history museum, housed in an old silk mill, who exist to tell "the Story of Wirksworth," a beautiful and ancient leadmining town in the heart of Derbyshire.
The Gift Shop and Gallery sells work by local artists and crafts workers as well as cards, local history books, maps and guides.
The Heritage Centre at Crown Yard is now closed at as part of a three year re-development which includes moving the museum into a more accessible location in the town centre. As the first stage of this development, we have opened a Cafe, Gallery and Shop called Websters at 31 St Johns Street.  There is also an official Tourist Information Point within the Cafe fully supported by the Visit Peak District & Derbyshire Tourist Board.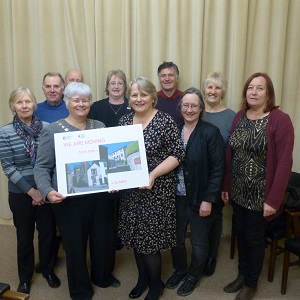 The Gift Shop and Gallery continues to sell work by local artists and crafts workers as well as cards, local history books, maps and guides from our new location at Websters on St John's Street.  We also have some limited digital displays of images from our archive.
Our unique local history museum, will continue to put on temporary exhibitions and we are currently developing the disused workshop at the rear of Websters which we hope to have open with an exhibition at Spring Bank Holiday.  Although we will have limited resources to tell "the Story of Wirksworth," a beautiful and ancient leadmining town in the heart of Derbyshire, we are comitted to keeping the story alive during this period of re-development.

Wirksworth Heritage Centre has received initial support* from the Heritage Lottery Fund (HLF) for their Recreation and Renaissance project, it was announced today.
Group Guided Walks and School visits are still welcome and we use the town itself as a virtual museum for our workshops.
New Broadband Installation at Wriksworth
Switching your broadband is SO easy, can save you a fortune AND give you a faster speed. At Wriksworth we've recently made a bold move.
Many people are paying for broadband speeds they are NOT getting
It can cost £1 for every GB you go over your data allowance – do you know what you use?
DON'T let complicated bundles and long contracts trap you into a bad deal
Pick the right amount of data. You will be charged or have your account upgraded to the next tariff if you go over. Have a look at the data usage calculator before picking a deal, not everyone needs to be paying for unlimited. To give you an idea 1GB= 1 movie or 16 hours surfing
Unlimited packages don't always do what they say on the tin.  Sky, Virgin, Plusnet and BT are truly unlimited. The other networks can cap your usage during peak times or slow you down with 'traffic management'
Slow internet can be really frustrating BUT don't go for a package that offers super quick speeds (at added expense) without first making sure you can get those speeds in your area. The speed checker below will tell you what your current speed is and which networks offer the best in your area
Broadband providers have to demonstrate that the 'up to' speeds they advertise are received by ONLY 10% of those using the service
Providers use a technique called 'dripping' to draw you to the positive parts of the contract. BE SAVVY always know:
The broadband price after the opening deal (eg. Free for 6 months)
The line rental: many sites will advertise cheap or free internet without mentioning line rental which is normally around £15
The length of contract and if it will require a credit check. Some firms offer no credit check deals like No Hassle which is good if you're in a bad spot.
The installation costs
KNOW YOUR RIGHTS if the provider increases the cost of your Broadband during the contract they must give 30 days notice, during this 30 days you will be abe to leave your contract without any penalty
Many providers will charge you early termination fees if you want to leave your contract early. If you're not satisfied with the service you're receiving then you MUST complain. The provider may be able to alter your package or improve your service so that you don't have to cancel and get stung for the cancellation fee.